Web site: www.zgos.hr

Zeleni trg 3, Zagreb
Tel: +3851 6421 510
Fax: +3851 6429 651
E-mail: zgos@zgh.hr

OIB: 85584865987-012
IBAN: HR98 2360000-1400480435



ABOUT SUBSIDARY
Landfill Prudinec-Jakuševec is a landfill for non-hazardous waste of the city of Zagreb and its surroundings.

ZGOS l.l.c. was established with the primary role of remediation of old Jakuševec dumpsite in order to preserve the health of the residents and the pollution of the last potable water wells in the vicinity of Zagreb. The secondary role was the adoptation and implementation of the waste management strategy, including improvement of financial results as well as improving the effects of financial and communal management.

ZGOS l.l.c. in 2006. became a part of a company Gradsko komunalno gospodarstvo l.l.c., and as of 01.07.2006. with the establishment of the Zagrebački holding l.l.c., ZGOS operates as a subsidiary.
Prudinec-Jakuševec landfill is a construction that is being built in accordance with the Building Law and the remediation project and construction are carried out by a building permit issued in the year 2000. According to the building permit, the construction of the Jakuševec landfill will be completed after fulfilling all waste cells, building final overlaying layer and constructing landfill gas wells.

ZGOS subsidiary business is carried out in accordance with the waste management permit issued in 2015.

Landfill Jakuševec has a daily capacity of roughly 971 ton/day of non-hazardous waste, which makes around 350.000 tones of non-hazardous waste per year. During last years the amount of waste decreased significantly (todays amount is around 260.000 tons/year).

The landfill is divided into 6 cells. The biggest, 6th cell, is divided into 3 separate parts. All cells have a bottom sealing layer with a drainage system. Cells 1 to 5 are closed and overlaid with final covering layer. The waste is currently being built in at the location of the 6/1 cell.

In the area of the landfill Jakuševec there is a small electrical power plant that produces electric energy from landfill gas.

The energy business of producing electric energy from landfill gas, is carried out in accordance with the permit issued by the Croatian energy regulatory agency. To distribute produced energy on the market, a contract with the company Hrvatski operater tržišta energije l.l.c. has been signed.

Landfill gas generated in the disposed waste is being transferred to gas engines that produce electric energy, through a gas pipelines network with condensation pots and gas wells.
A small electrical power plant that produces electric energy from landfill gas at the landfill Jakuševec is one of its kind in the Republic of Croatia. In 2014. the plant produced a total of 12.003.668 kWh of electric energy.

In 2015. a third generator was installed and the total of 17.524.144 kWh of electric energy has been produced, which is enough to settle the yearly energy demand of roughly 5.000 households. In 2018. the plant produced a total of 18.297.660 kWh of electric energy, which is enough to settle the yearly energy demand of roughly 6.100 households.
Since 2004. and until 2018. the amount of electric energy produced and placed on the market was 110.824.603 kWh.

Landfill Prudinec-Jakuševec is not just a regular cell where people of Zagreb dispose everything they think is needless and harmful. It is a modern facility that recycles construction waste, produces compost and processes landfill gas with permanent surveillance of underground waters, landfill leachate, air, waste composition and animal realm.

Facilities and systems of the Prudinec/Jakuševec landfill:
Landfill gas power plant
Bio composting facility
Construction waste recycling facility
Intervention pumping system
Landfill leachate treatment facility
Entrance area with weighing scales
Plateau for storage of useful waste components

On December 29th 2003. ZGOS subsidiary adopted integrated system ISO 9001:2000 (quality management) and ISO 14001:1996 (environment protection system). Process compatibility with both norms and the will for their constant upgrade is acknowledged with continuous renewal of both norms by authorized certification company.

The certificate of compliance of all processes with both standards and a desire for continuous improvement are confirmed by the renewed certificates by the certification company BVQI Croatia (both ISO 9001:2008 and ISO 14001:2004).

Director Anita Udovičić
Tel: +3851 6421 502
Fax: +3851 6429 651
E-mail:
zgos@zgh.hr
Jakuševec
, Sajmišna cesta bb, Zagreb
Tel: +3851 6609 601
Fax: +3851 6609 602


GALLERY
Fotogalerija
1/25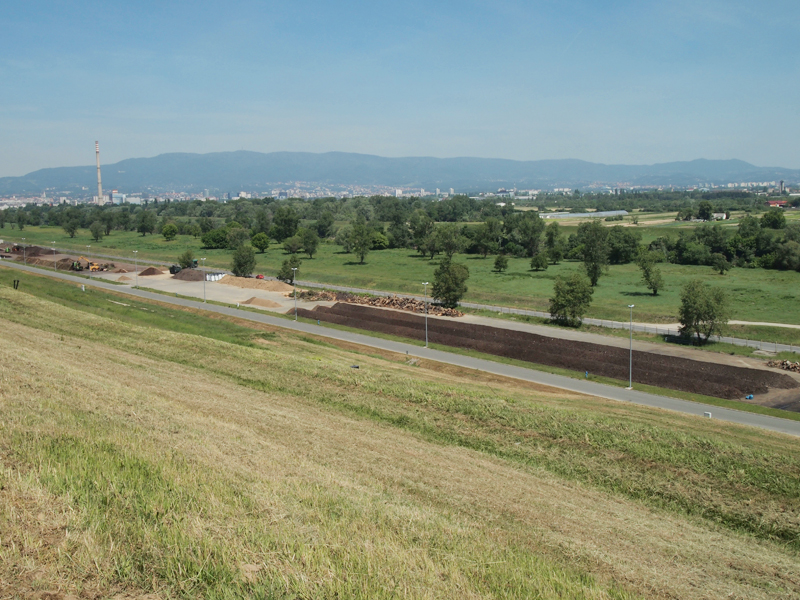 ---